Le Village Musical Acadien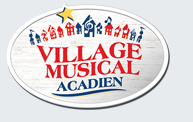 The Village Musical Acadien offers typical Acadian cultural and culinary experiences. It has a theatre with an interactive learning area, an art gallery, a gift shop, a restaurant, a bakery and a kitchen.
The Center organizes several cultural activities such as dinner theatre or musical performances. Several community events are held at the Village Musical Acadien, such as a Culinary Festival.
You can also learn how to make Acadian pastries such as "poutines à trou" and "pets de sœur " (cinnamon buns) and taste the most popular traditional Acadian dishes.
You can enjoy top-notch fiddle players, learn to play a tune and dance along the way!