Brouillet Academy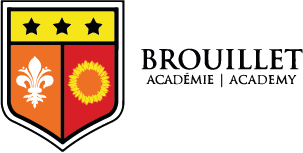 Register NOW for our upcoming semester of online classes!
Join one of our virtual group classes or virtual one-on-one tutoring sessions and watch your child's French skills and confidence skyrocket!
Our online classes are designed to target each specific grade level from beginner to advanced French immersion and will provide a clear progression path for the students.
Our proprietary curriculum, developed by our enthusiastic team eager to share their passion for French, is reviewed and connected with the Ministry's curriculum yearly by our dedicated and amazing Director of Curriculum with years of experience in Second Language Learning.
Classes for French immersion students: Specifically developed for French immersion students and tested and reviewed regularly, our French classes are offered to a maximum of 8 students. They will impact their richness of vocabulary, fluidity of conversation and grasp of the grammatical rules.
Classes for Non-French immersion students: Built with the students eager to learn French in mind, our French classes for non-FI students are updated regularly to be appropriate for the level targeted. They will consolidate students' foundation and basic French skills through various activities linked to the four learning domains: oral communication, oral comprehension, reading comprehension, and writing.
Prep to Delf classes: The program in our Senior Academy provide students ages 12 and up (of appropriate French proficiency) with a unique opportunity to progress with their French second language learning. Our DELF classes are designed to prepare them to complete the certification for the DELF Junior diploma awarded by the Common European Framework of Reference for Language Ability (CEFR). The course curriculum, which has been developed in consultation with a number of experienced French immersion teachers, has been tailored to meet the specific needs of French Second Language learners. Students will progress from level A1, A2, B1 to B2 with help from our experienced, native speaker professors.
One on one tutoring: Our one-on-one tutoring service offers customized support for students interested in improving their French, regardless of their French level. From homework support, to help with your vocabulary, grammar and reading comprehension, our enthusiastic and patient tutors will customize their lessons to your needs!
Learn more at www.brouilletacademy.ca
The Brouillet Academy is a division of Camp Tournesol.