DuffleBag Theatre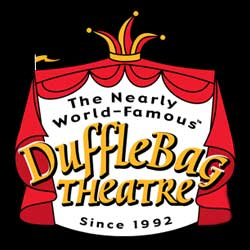 Since 1992, the "Nearly World Famous" DuffleBag Theatre has become one of the most celebrated companies at festivals and schools across the country. The DuffleBag actors begin the retelling of original adaptations of select fairy tales and Shakespearean classics full of wit and humour. Just when the audience becomes enthralled by the story - a twist is created! Before your very eyes, students (and maybe even a teacher) are asked to come up on stage and join in the action. This unpredictable performance is a hilarious experience for all ages and a truly unique interactive theatrical experience where the dream of living a fairy tale actually does come true!
Invite DuffleBag Theatre to your school: Now based in Toronto, DuffleBag performs over 600 shows a year, across Canada, the U.S., and internationally. DuffleBag Theatre offers bilingual productions, performed in both French and English, of beloved stories suitable for all ages.
To book DuffleBag Theatre to perform at your school or event contact Prologue to the Performing Arts.