Elizabeth Sircom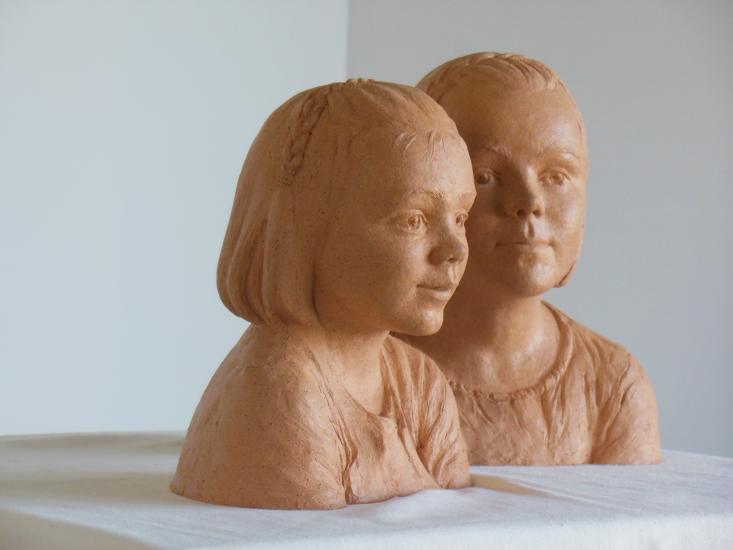 Elizabeth Sircom grew up in the Annapolis Valley. She studied languages in Nova Scotia and France, then painting and drawing in Paris. She lived in Normandy, working as an artist and teaching drawing and painting to adults and children. Portraiture has always been a central theme of her work. A self-taught sculptor, the main focus of her work over the past six years has been a series of sculpted terracotta busts. Elizabeth returned to live in Nova Scotia in 2013 and gives workshops through the PAINTS and AGNS ArtsSmarts programs, and the Acadia University Art Gallery.
Workshops and Activities
Elizabeth can teach in English or French. She taught drawing and painting to adults in France, for 12 years. Much of the content could be adapted for children, as she taught a wide variety of techniques and themes. She enjoyed redoing some of my workshops for children here in Nova Scotia. One example is a workshop introducing 5-year-olds to the many possibilities of clay. Another project involves making giant books. In the spring of 2015 a class at Hantsport School designed illustrations for a songbook to go with a musical play about the history of Hantsport. The aim of the project was twofold : 1) To explore how an artist comes up with images to suit a particular text. Students made sketches and used these to make the final image. 2) To paint BIG ! (The pages of the book were 2 x 4 feet.) This involved mixing colours on a large palette, using big paintbrushes, working as a team on different parts of the same image, etc.She has often given portrait workshops, since that is my particular area of interest. These are best for children aged 8 and up and involve observation and drawing with the simplest materials.