Fort Gibraltar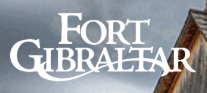 The major purpose of Fort Gibraltar is to reflect key elements of life in the Red River valley from 1815 to 1821. The themes provide witness not only to the importance of the fur trade as an economic development factor in Manitoba's history, but also to the lifestyle of the settlement and the roles played by the Metis, the settlers, the explorers, the Aboriginal peoples, the companies and of course, the Voyageurs.
Historical Tour:
During the summer, Fort Gibraltar is a historical site featuring colorful characters living to the beat of 1815. Our guided tour lasts approximately 2 hours. Fort Gibraltar is located 5 minutes from downtown. Free parking is available on site.
Summer school programs:
We invite you to learn about Fort Gibraltar's influence over the cultural development of the Red River settlement. Delve into the lore of the French Canadian voyageurs who paddled across the country, transporting trade-goods and the unique customs of Lower Canada into the West.
Private tours are offered upon request all year long.