Old Town Glassworks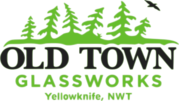 Established in 1994, Old Town Glassworks is a workers cooperative that has been creating beautiful recycled glassware on the shores of Great Slave Lake for over 20 years.
Old Town Glassworks attracts many visitors each year and has become a cultural meeting place in Yellowknife, where artists exhibit and sell their work. You can go for a visit to see the artwork and also enjoy a workshop! Workshops are 2 hours long and include a brief history of the space and organization, a demo of cutting, grinding and polishing a glass bottle and instruction on how to stencil and etch your own personal piece of glassware. The two-hour glass engraving workshops are appropriate for all (ages 3 & up). By organizing yourself in advance, you can plan to have the workshop in French!
There is also a gift-shop with famous northern glasses, mugs, lamps, magnets, soap pumps & other locally made art and handicrafts.