Opéra York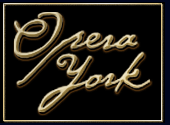 Opera York is a not-for-profit, registered charitable arts organization that is run by an annually elected Board of Directors. It is their mission is to provide professional opera that is accessible financially, geographically and comprehensibly to the communities of York Region, Toronto and surrounding communities, to encourage the development of the art form through educational and outreach activities and provide a platform for emerging and established Canadian artists.
Opera York has partnered with the York Region Public and Separate School Boards to introduce opera to a new generation through the Opera for Schools/L'opéra pour les écoles  program.  Opera for Schools/L'opéra pour les écoles  is a curriculum based program that offers educators everything they need to teach students a love of Opera.  The program is offered in both English and French languages to elementary and secondary school students in York Region and Toronto.  Opera for Schools has reached close to 10,000 students since it's beginning.
Participation in the program is very affordable and includes a visit to the theatre for a live operatic concert performed by some of the stars of Opera York, a Q&A session with the performers and Teacher's Program Guide designed to assist educators in the classroom with teaching students the love of Opera.