The Sainte-Anne Community Center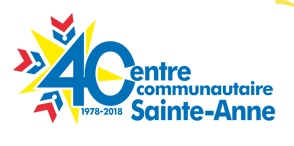 The Sainte-Anne Community Center (CCSA) has been in existence for 40 years and is a central place for the Francophone culture in Fredericton. It offers a variety of cultural and community programming including shows for adults and children, French films for the whole family, exhibitions, classes, workshops or conferences in different areas and more!
An impressive range of other services, located at the CCSA, is available to the Francophone and Francophile community in the Capital Region, as the Center brings together a variety of cultural organizations, including:
• Community Theater Troupe Madmen of the Stage
• Rythmika, a gymnastics club for young fancophones
• The choir of Soulanges, a choir
• The Dre-Marguerite-Michaud Library
• The Youth House acAdo
The CCSA is the place to flourish in French in the Fredericton area!