Upper Canada Village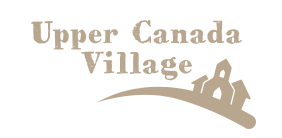 Founded in 1961, Upper Canada Village located in Morrisburg, is one of the largest living-history sites in Canada. They endeavour to depict life in a rural English Canadian setting during the year 1866. Featured are over forty historical buildings, many moved here prior to flooding of the "Lost Villages" during the St. Lawrence Seaway development project. These include homes, functioning mills and trades workshops. A key part of the experience is the authentic buildings that make up the village, the activities that each housed, and of course, the people who lived there.
Canada's past is brought to life as students immerse themselves in hands-on historical experiences during their school program.
Program selections offered:
Self-Guided Discovery Visit
Second Annual War of 1812 - Education Day
Grade 3 Special Activity Days
Village Overnight Live-in Adventrue and Day -Time Adventure
Train Special
Medieval Festival - A Day in the Life of an Early Society - Education Day
Sheep Sheering
Off Season Guided Tours
At the time of requesting your group visit, the option to select your language preference in English or French, is available.