La Cité Francophone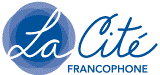 La Cité Francophone is the hub of French Culture, Community & Commerce, providing an outstanding facility for the greater Edmonton area.
Our History
As early as January 1944, the French Canadian Association of Alberta expressed the need to build a cultural centre. This dream was finally realized in 1997 with the completion of Phase I and in 2010 of Phase II. A large majority of Francophone organizations now occupy the building's 104 000 square feet. La Cité has become a place where the Francophone and greater Edmonton community can gather and experience French Canadian culture at its finest.
Our Vision
Located in the heart of Bonnie Doon, Edmonton's Francophone Quarter, La Cité is a cultural and community centre as well as the meeting place for Edmonton's Francophone and Francophile community. It houses cultural, social, pedagogical, professional and commercial services. La Cité provides the Francophone community with a meeting place from which it can flourish.