Le Voyageur Errant – Performer/ Speaker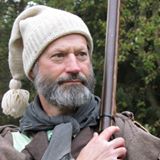 History, French and Culture Come Alive! Le Voyageur Errant is Jay Bailey, an authentic voyageur who worked with First Nations in Manitoba and then taught French for thirty years before putting his French and Indigenous interests together to become a voyageur. He has traveled over 4,000 km on the fur trade routes, mostly in birch bark canoes, equipped as were the voyageurs in the late 1700s.
Le Voyageur Errant will connect virtually with you to bring voyageur life alive for you and your students, to explain why we have Canada from coast to coast and to expose the effect of the fur trade on Indigenous peoples. The presentations engage students with slideshows of actual expeditions, authentic gear, furs, trade goods, songs, dance and games of the voyageurs. He delivers the presentations in French and/or English and adjusts them to suit K-3, 4-6, 7-8 and 9-12. With a Zoom account able to handle 100 connections, he can accommodate most needs.