Minogami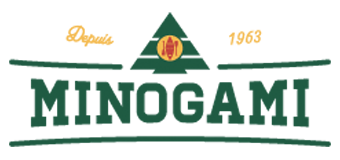 Camps Odyssée is a nonprofit organization comprised three camps: Minogami, Trois-Saumons and Bourg-Royal.  All three offer a wide range of holiday camps and day camp options. For over sixty years students age 4-19 years old have come to camp to have fun over the summer at one of their three wonderful locations !
Camp options include day camps and weekly stays with multiple different themes for campers age 7-19 years old to enjoy. Activities include  swimming, archery, art, canoeing, rifle shooting, sailing  and so much more! This camp is  an exceptional place for the adventurous at heart. Near Shawinigan and just minutes from La Mauricie Park, camp Minogami specializes in canoe camping expeditions, while providing a memorable camp life. Surrounded by nature, on the shores of a wild and unspoilt lake, the environment is ideal for meeting challenges while having fun.
Minogami offers school tours and group activities that everyone is sure to enjoy. Through a good mix of educational and recreational activities, students will enjoy their experience with nature. Whether for one, two, three or even five days, Minogami has the resources, staff, programs and experience to help you organize a memorable group outing!