The Bottle Houses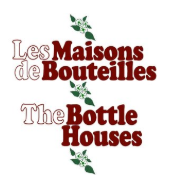 Imagine over 25 000 recycled bottles ingeniously cemented together to create the Bottle Houses. It is a great pleasure to share the magic brought about by the clever recycling project of the late founder of  The Bottle Houses, Édouard Arsenault and his daughter, Réjeanne Arsenault.
Come explore our three fantasy-like buildings of the first-ever Bottle Village on P.E.I. Admire the symphony of colour and light within. Ah! the perfume of the wild roses... the splendours of Mother Nature at every corner...the ocean's breeze on your face...a welcome escape from everyday life!
The Bottle Houses village contains a six-gabled house, tavern, chapel and gift shop. On Saturdays, you can even take a yoga and meditation class!