The Southern Saskatchewan Summer Solstice Festival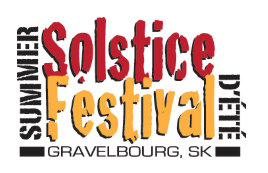 The Southern Saskatchewan Summer Solstice Festival Inc. (known as Summer Solstice Festival d'été) is a volunteer run non-profit organization. Each year approximately 100 local community volunteers commit more than 2,500 hours to the success of an annual festival that is bilingual!
This festival happens in June and is very important to the community of Gravelbourg and the surrounding area in exploring various cultures, building camaraderie, improving communication and instilling a sense of civic pride. By working together to achieve a common goal the community gains understanding and insight into future opportunities for community improvement and growth, and a strong appreciation for their neighbor.
The mandate of the festival is to celebrate the spirit of the southern Saskatchewan landscape through art, music, dance, literature and drama providing a living, interactive diary of culture - things of the spirit - to local, provincial and regional audiences!